Written by Laura Pouru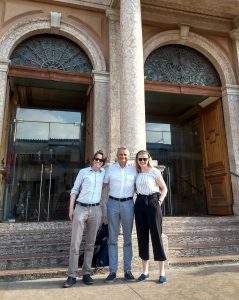 The Global Futures Literacy network – consisting of eight UNESCO Chairs and a group of experts – met at the University of Trento in Italy on June 19-21, 2019 for the first international symposium of UNESCO Chairs in anticipatory systems, futures studies and futures literacy. The symposium was organized as the first annual meeting of the FL network members to share updates on their work – both the existing Chairs and the new emerging Chairs.
Our UNESCO Chair team presented the work we have been doing over the last couple of years: e.g establishing the concept of Finnish Futures Day to get nationwide attention to futures literacy, creating the mobile course Get that Future – Futures Literacy Lab for youth in collaboration with Funzi, collaboration work with upper secondary schools to find ways to integrate futures literacy into education curricula and the most recent collaboration work on tertiary futures education with the universities in Cuba.
It was also inspiring to hear how the futures literacy work is progressing all around the world, e.g. in Greece, the UK, the Netherlands and Uruguay. There were also theoretical discussions on different perspectives on what is futures literacy and practical discussions on how the GFL network wants to organize itself for the future.
The Global Futures Literacy network will meet next time in June 2020 in the context of Finland Futures Research Centre's summer conference 2020 "Futures of Learning-Learning futures".
There are currently eight existing chairs with the themes of futures literacy, anticipation and futures studies:
Sohail Inayatullah, Universiti Sains Islam Malaysia (USIM), UNESCO Chair in Futures Studies
Roberto Poli, University of Trento, UNESCO Chair in Anticipatory Systems
Markku Wilenius & team, Finland Futures Research Centre/University of Turku, UNESCO Chair in Learning Society and Futures of Education
Lydia Garrido, South American Institute for Resilience and Sustainability Studies (SARAS), UNESCO Chair in Futures Literacy for Resilience and Sustainability
Loes Damhof & team, Hanze University, UNESCO Chair in Futures Literacy
Ted Fuller, University of Lincoln, UNESCO Chair on Responsible Foresight for Sustainable Development
Epaminondas Cristofilopoulos, Foundation for Research & Technology – Hellas (FORTH)
Kais Hammami, University of Carthage