What?
UNESCO Chairs serve as bridge builders and think tanks between academic research, civil society and political decision-making. University of Turku has been granted a four-year UNESCO Chair in Learning Society and Futures of Education (2016-2020) with the aim of making use of tools of futures research to eradicate global poverty and improve human well-being in developing countries. Professor of Futures Studies Markku Wilenius from Finland Futures Research Centre (FFRC) has been appointed to the position. The implementation of the Chair mission is carried out through research, education and development activities focusing on global capacity building for futures thinking (or futures literacy).
Why?
Futures literacy and futures thinking skills are capabilities that can be trained. Through better futures literacy individuals become more conscious about the diversity of possible futures and their own capability to influence the direction of the future – on personal, local and global levels. Futures literacy is a substantial meta-skill in the 21st century world helping individuals not only to think critically and creatively for solutions to our existing global and local problems – but also to build up personal resilience in the rapidly changing world.
How?
The Chair in Learning Society and Futures of Education builds on the principles of UNESCO's humanistic and holistic approach to lifelong and lifewide education. During the Chair we are developing the foundations of futures pedagogy with our extended research team at FFRC. We are developing also tools and a practical guidebook for futures education in the upper secondary education that can be utilized worldwide. This work is done with the 25 years of experience that FFRC holds in futures education. On the whole, we want to bring together the Finnish high-quality education, pioneering futures research and the strong tradition of gender equality.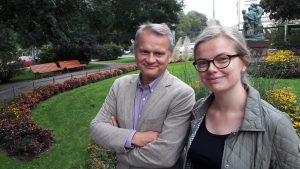 We are keen on sharing this knowledge and experience in global networks and wish to contribute to UNESCO's mission of eradicating poverty and building peace, sustainable development and intercultural dialogue.
Who?
Professor of Futures Studies Markku Wilenius holds the UNESCO Chair in Learning Society and Futures of Education. Markku has worked in the field of futures research for more than 20 years. His most recent research projects handle human-centric organizational development, societal adaptation to complex transformations, the ethics of rising bioeconomy and complexity of urban futures.
Project Manager Laura Pouru is managing the research, education and development activities of the Chair. Laura has a M.A. degree in futures studies and M.Soc.Sc. degree in human geography. She has worked in various foresight and futures research projects at Finland Futures Research Centre and Finnish public sector organizations.
Please feel free to contact us. We are happy to tell you more and always interested in discussing cooperation opportunities.